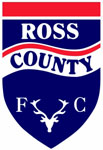 John Hughes is back in the dug out and is prepared to meet one of his former clubs Hibs at easter Road today. The new manager of Ross County is fully aware that his side 'make their own luck' in today's game. Hughes both played for and managed today's opposition, believes that County have to be 'inspired' by the challenge ahead.

The Dingwall side's manager went on: "I think you make your own luck in terms of having a right go and then it turns for you. That's what I'm trying to do, I'm not wanting anyone to say we're not carrying any luck. No, no. You make your own luck! By having a go and being the player you know you can be and that's what I'm trying to instil into the team. In terms of where I see we are… by playing Celtic then going down to 9 men then yes (we have been unlucky), but it is what it is. You need to take it on the chin. But within all that, I've seen a real, solid, hard-working, honest and authentic bunch of guys. What we need to do now is we need to turn the page and that's what I was saying right at the start. I know what I'm getting so now we need to turn the page and we need to start winning football matches."

Jack Ross's Hibs side have lost just one game ot of their previous 10, yet Hughes reckons that the opposition's good form provides an incentive for a positive Staggies performance. He said: "What a challenge it is for us, what a challenge, it has to inspire you! Going up against that challenge, you, as an individual have to stand up to it and say, 'come on then, bring it on, I'm up for this' and then go on that stage and show them what you've got. And that's what I'm putting through to the players, we don't feel inferior to no one. No chance! I would not have that at my football club. Make no mistake, fantastic season they are having, but that has to inspire you, even if there's a little bit of trepidation in you. You need to turn that trepidation into a wee bit of 'come on, bring it on' and that's what I'll be looking for from my boys. I'm looking at that first 30 minutes at St Mirren and saying if we can do that, that's the positive I'm taking, if we can do that for 90 minutes and be inspired by playing against a high-flying Hibs team, then Hibs will know they've been in a game.

"
Editor
Ger Harley (ger@scottishfitba net)

Admin Team (admin@scottishfitba net)

This is Scottish-Fitba Net