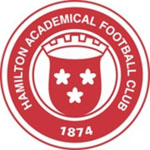 Hamilton take on Aberdeen tonight after a series of disappointing results. However, Scott McMann has taken heart from the performance against Dundee United. He is confident that fortunes will change soon for the Accies.

He said: "Over the past six weeks our performances haven't been good enough but on Saturday I think we were much better. Recently we haven't given ourselves a chance to get into the game before we know it we are a few goals down so it was good to be in an end to end game. We were obviously devastated to get beat the way we did but it was encouraging going into Wednesday and from there."

After a poor start to the season McMann and his team mates are very keen to make things right. McCann went on: "There is still a long way to go in the season, we are only one round of fixtures in, we want to make things right moving forward. We have to stop goals going in. We have been scoring but we need to be a bit more solid defensively. I think we needed a reset (international break) and took time to get ourselves going again with three home games coming up."

McMann also took time to speak up for beleaguered manager Brian Rice who retains confidence in his selections. McCann said: "We had a meeting after Saturday and there was a positivity and confidence about the dressing room, naturally some heads did begin to drop but that's flipped and the mentality is a bit more positive now.

" .
Editor
Ger Harley (ger@scottishfitba net)

Admin Team (admin@scottishfitba net)

This is Scottish-Fitba Net