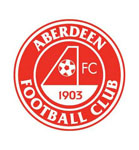 Nobody in Pittodrie enjoyed Sunday's 0-4 reverse against Celtic. Manager Derek McInnes did not feel liket pulling any punches in his post match comments on how his side performed aganist the Glasgow side. The Dons can do nothing about the weekend's result but can show how resiliant they are tonight when they take on Hamilton away. The players will be keen to show that they do care, feel the same painas the fans of a defeat and keen to make partial amends for their disappointing show on Sunday.

Speaking on Monday, Craig Bryson said: "

Everybody was obviously a bit down yesterday, but you have to move on, you have to forget about it, you have to learn from it. The good thing with football and especially this week is that we have a game on Wednesday we can go out and try and put the wrongs of Sunday right. We always speak to each other about the games and what we could have done better, what we had done badly. There is no point in buttering up Sunday, it was live on TV, everybody saw how bad we played. Albeit Celtic played well but I think we helped them, we played pretty badly to be honest. It is one of those games you can learn from it or you can go under. At this club you are going to play under pressure every game. Nobody is going to feel sorry for us, we can't feel sorry for ourselves, we have to go down to Hamilton on Wednesday and get a result and that is what we are aiming to do. The gaffer isn't lying. He is not coming out saying stuff the players, if you're being honest with yourself, you don't already know. Sundays performance was nowhere near good enough, nowhere near good enough for Aberdeen. You have to accept that, you have to take it on the chin, you have to prove the gaffer wrong. We have got another chance on Wednesday and whatever team he picks to play has got to prove the gaffer wrong and hopefully we can get a result down there.

"
Editor
Ger Harley (ger@scottishfitba net)

Admin Team (admin@scottishfitba net)

This is Scottish-Fitba Net