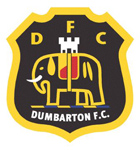 While others may have been enjoying preparations for seeing the New Year in, Dumbarton players were in for a loosening up session before their game against Queen of the South tomorrow. Manager Stevie Aitken was pleased to be able to include new signing Liam Dick in the session at the Sons training complex at Benburb. Aitken was in positive mood when he looked ahead to the rest of the season.

He said: "I'm delighted to have agreed terms with Liam. With Boomer's injury being medium to long term, the position of left-back needed to be covered, so when we heard that Stranraer were releasing Liam, we made our move. All being well, he'll be available for the Queen of the South game."

While plans can be made not all of them come off and Aitken confirmed that a loan deal he thought was in the bag has had to be reconsidered. He went on: "We had everything in place to bring in a striker but unfortunately a last minute hitch means that particular deal is for now not going to happen. That situation may change, but for now I need to look elsewhere. We were looking to also bring in an experienced player currently in the Championship but that too is not something we will pursue. It's busy time for me right now as we try to freshen things up, but January is traditionally a tough period to get players, but I will be working as hard as I can to see what can be done."

Turning to more immediate things, the manager finished off by saying: "We have a tough game on Tuesday. They (QoS) will want to bounce back from their Falkirk loss on Saturday but we too are looking to get back to winning ways. Another hard game follows at the weekend when we are back at home to face Dunfermline Athletic. But, I wouldn't have it any other way!"
Editor
Ger Harley
(ger@scottishfitba net)


Admin Team
(admin@scottishfitba net)

This is Scottish-Fitba Net