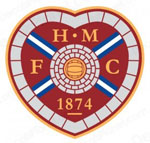 Hearts' Harry Cochrane was very pleased for team-mate Anthony McDonald as he looked back at Tuesday's win over Dundee, as they both played starring roles. Cochrane came on as a first-half substitute to become one of the youngest midfields in the club's history alongside McDonald, fellow teenager Lewis Moore and the comparative veteran Prince Buaben. The win made it five games unbeaten since the return to Tynecastle Park, Cochrane admitted that the team's confidence is on the up following a spell of solidity and stability.

He said: "It was good to get the result. The performances have been there for the last few weeks but we've needed the results along with them, so we're building momentum and confidence along with it." Admitting he wasn't expecting to be involved with the first team so quickly, the central midfielder thanked manager Craig Levein for the faith shown in him, as he discussed the struggles he's faced so far. Cochrane went on: "It's absolutely brilliant, it's what you dream of and he's given us the opportunity. It's come much sooner than expected, I never thought I'd be playing first team at sixteen. The biggest challenge isn't mental, I can handle that, it's the physicality. I've come up against guys who are double my size, but you just have to try and take the hit, hope you get a free-kick, then get back up and get on with it. It's difficult but I'm loving the challenge."
Finally, Cochrane praised his friend and squad-mate McDonald as he put on a man-of-the-game display, including two assists, while pointing out the good work that the Hearts staff have done in keeping their young feet on the ground despite their first team duties. Cochrane admitted: "I was buzzing for Anthony. It's brilliant to see him get his debut, he's such a great player. He's so tidy on the ball, and I can't get it off him in training. He's a great lad, and it's brilliant for us to come through together. I think it's really important that we're still in and around the U20s, because it's still our age group. We still have our jobs, I need to clean Arnaud Djoum's boots and I'm replacing him during a game! It keeps us grounded. Hearts have been so good at keeping us disciplined, and we're really appreciative of it."
Editor
Ger Harley
(ger@scottishfitba net)


Admin Team
(admin@scottishfitba net)

This is Scottish-Fitba Net