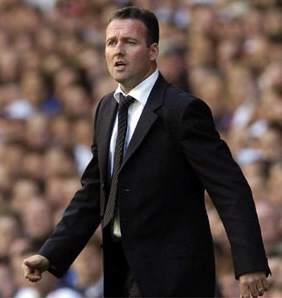 A new manager can make a big difference to how decent players play. The new broom effect has worked in Stoke since Paul Lambert has arrived. According to goalkeeper Jack Butland. Lambert's "
zero tolerance, no-nonsense
" approach has made a big difference to relegation-threatened Stoke. The Potters are second from bottom of the Premier League but have lost only one of five games since Lambert replaced Mark Hughes on 16 January. Lambert will be hoping to gain a win today when they take on Southampton, who are a point above them in 16th.

Butland said: "
He's re-energised people or given them belief back. Are we more than capable of winning games? Yes we are, but we weren't achieving that so something had to change. Too much in the first part of the season we hadn't hit heights in terms of running stats, winning tackles and 50-50s. The manager has come in with a zero-tolerance, no-nonsense kind of attitude just in terms of laying down the law and we're playing with a lot more intensity and causing teams more problems.
"

The belief in the manager comes right back at Butland as Lambert has descibed his stopper as the "
best goalkeeper in Britain
" despite an error that cost Stoke a win at Leicester last Saturday. Stoke were leading 1-0, when Butland conceded an own goal when he was struck by Marc Albrighton's powerful cross from the byeline. In his defence Butland said: "
It was an uncharacteristic mistake in that it happens as a goalkeeper. I was glad I was able to contribute in the end and make a few more saves to make sure that we came away with a point
."
Editor
Ger Harley
(ger@scottishfitba net)


Admin Team
(admin@scottishfitba net)

This is Scottish-Fitba Net